New Contest from Brazil to Visit "Half-Blood Prince" Set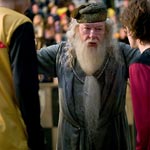 Nov 27, 2007
Uncategorized
A new contest has been announced in Brazil for one lucky winner from that country and a guest to win a trip visit to the "Harry Potter and the Half-Blood Prince" set at Leavesden Studios in the UK. Warner Bros. gave the details today on the contest that goes in correlation with the DVD release of the fifth film, "Harry Potter and the Order of the Phoenix." The grand prize includes a trip for two to the film set, a feast on the Great Hall set, and the opportunity to meet actors and creatures from the films. The lucky winner will also receive an official movie kit, including a wand and hat, plus the chance to participate in a special effects type class during their visit. In order to enter, you must enter a special code contained in the Brazilian editions of the "Harry Potter and the Order of the Phoenix" DVD packaging and answer the following question on the contest website:
In "Harry Potter and the Order of the Phoenix," Harry and his friends have to fight against the Death Eaters at the Ministry of Magic. If you had to do the same, which spell would you develop to defend yourself?
The most creative answer will win the grand prize. A number of other prizes for the runners up will also be rewarded. Those prizes will include the Harry Potter movie kit and sets of the Harry Potter DVDs. The contest beings today, November 26th, and runs through January 31, 2008. Winners will be notified on February 14, 2008.
Complete rules and information can be found right here. Good luck to all who enter.
Thanks to O Mundo de Harry Potter for mailing.