Toby Jones Talks Dobby In "Deathly Hallows"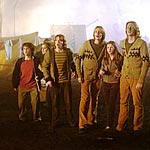 Nov 27, 2007
Uncategorized
Actor Toby Jones, who provides his voice to the digitally created character of Dobby in the "Harry Potter and the Chamber of Secrets" film, is the subject of a new interview online from MTV. In this interview, Mr. Jones discusses his desire to again give his voice to the house elf in the seventh film, "Harry Potter and the Deathly Hallows" and of the massive effort that it takes to create the character seen on the screen. On this subject he says:
"I can only take a certain amount of credit for inhabiting Dobby, because clearly these brilliant people at Industrial Light and Magic have created Dobby and I just voiced the character. [But] am always amazed and flattered at how much that character has endured even though he hasn't been in any films for a while. Every time a book comes out people phone me, and write to me from around the world saying ˜He's in! He is in!'"
Mr. Jones goes on to comment on his hopes for a return for "Deathly Hallows" saying, in part, "It would be fun." He continues on this subject, speaking directly about certain events which involve his character in the seventh Harry Potter novel in the rest of the interview, which you can read right here. A caution for those still wishing to avoid "Deathly Hallows" spoilers, this article does contain them.