(Updated)Reminder: Harry Potter Weekend on ABC Family Channel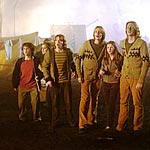 Nov 30, 2007
Uncategorized
A reminder of what we first told you several weeks ago that cable channel ABC Family will be broadcasting their special Harry Potter weekend beginning with Harry Potter and the Sorcerer's Stone tonight. Airing tonight at 7:30pm (ET), the channel will then broadcast "Harry Potter and the Chamber of Secrets" on Saturday, December 1 at 7pm (ET), and then "Harry Potter and the Prisoner of Azkaban" on Sunday, December 2 at 6pm. "Prisoner of Azkaban" will also be re-broadcast on December 13 at 8pm (ET) as well.
As we also reported previously, WB will be promoting the release of the Harry Potter and the Order of the Phoenix DVD during this weekend, and we will update should any new footage be aired.
UPDATE
: The first of the new footage was just broadcast, and showed a deleted scene, which was a chilling clip of Professor Umbridge holding Harry and Hermione prisoner in the Forbidden Forest. A second clip aired, showing Natalia Tena, dressed as her character Tonks, playing the guitar. In addition, ABC Family ran an add indicating there will be new clips aired tomorrow and Sunday night during the Harry Potter films.