New Article Online from 'OotP' DVD Launch in the UK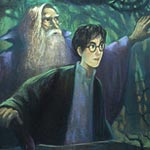 Nov 07, 2007
Uncategorized
A new article is online from Spanish language network Noticieros Televisa, who was in attendance at the "Harry Potter and the Order of the Phoenix" UK DVD launch that took place in London, England this past weekend. The article, a translation of which can be read here thanks to our Order partner DanRadcliffe.com, features quotes from Dan Radcliffe (Harry Potter), Emma Watson (Hermione Granger), Rupert Grint (Ron Weasley), and "Order of the Phoenix" director David Yates on a wide variety of subjects. During the interview, Dan Radcliffe comments briefly on the progress of the "Half-Blood Prince" filming by saying this in regards to fellow actor Rupert Grint's upcoming on-screen kiss:
"We're doing really well, although we haven't got to the filming of the kissing scenes with Ron and Lavender. I'm really excited to see Ron's first kiss on screen."
The article goes on to quote Emma Watson, who notes the similarities she shares with her character when commenting on the three week break she received during filming in order to complete her studies by saying: "I'm like Hermione. I'm a geek who likes to go to school and learn." Rupert Grint also spoke of the impact working with "Harry Potter and the Prisoner of Azkaban" director Alfonso Cuarón had on him, and went on to say of Cuarón: "He was a bit mad, but in a good sense. He was very funny. We got along great."
Finally, director David Yates made comments on the reactions he witnessed by some fans after Harry Potter author J. K. Rowling's revelation about the sexuality character of Albus Dumbledore. Yates said:
"I think it's great that the author revealed the sexuality of Dumbledore, who is a very rich and complex character. In the US it was a huge scandal, but not here in Europe."
The "Harry Potter and the Order of the Phoenix" DVD will be released in the UK next week on November 12th, while readers in North America will be able to pick up their copies on December 11th.
Thanks to DanRadcliffe.com!