Emma Watson Attends Party for Chanel in London (Updated)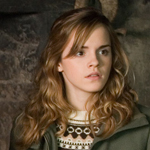 Dec 06, 2007
Uncategorized
Actress Emma Watson attended a party hosted by designer Karl Lagerfeld of fashion house Chanel last night in London, England. Hello Magazine reports that Emma "arrived at London's Nobu restaurant in a shimmering sequined jacket bearing the legendary brand's double C logo. Clearly confident about her style ' she recently revealed she never uses a stylist to help her wtih her wardrobe choices ' the Harry Potter star completed her highly groomed look with a generous sweep of ruby-red lipstick." You can see more photos of the Hermione Granger actress at this event here via WENN, and in the Daily Mail.
UPDATE: Additional photos are now in our galleries, here.
UPDATE 2Emma Watson, along with fellow Harry Potter actress Emma Thompson (Professor Trelawney) attended the Chanel Winter Collection fashion show tonight in London,England, with new photos from this event now available in our galleries.
Thanks future wonder and radcakesfan!