David Heyman: Harry Potter Films Reflect "Issues of Loyalty and Trust and Friendship"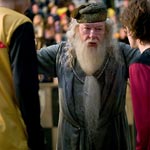 Dec 10, 2007
Uncategorized
The popularity of fantasy films at the box office is the subject of a new article in the LA Times, and mentions the impact and influence of such films as the Harry Potter series. Producer David Heyman is among those interviewed for this piece, and he notes that while there is a fantasy element in the movies, the themes often relate to real world issues.
"Fairy-tale endings aside, the fantasy world is not always a pleasant place. Harry Potter has lost one classmate and a surrogate father, and readers of the books know there's more carnage in store. Even tranquil Narnia is beset by war…."The best fantasy films reflect what is going on today," adds David Heyman, currently producing next year's "Harry Potter and the Half-Blood Prince." "I think the Potter films reflect, in some form, issues of loyalty and trust and friendship, and of propaganda and misinformation and people not being prepared to see what is before them, wanting to see only what they want to see."
The article continues to describe how the success of the Harry Potter series broke through previously held conceptions by the studios, and showed how American audiences would react to fantasy films with a non American cast such as the popular "Chronicles of Narnia"series.
"Lord of the Rings" was the first to demonstrate the box-office might of the fantasy genre, but producer Mark Johnson says the "Narnia" series owes its life, and particularly its fidelity to its source, to the Harry Potter films.

In the pre-Potter era, Johnson says, studios assumed that American children were unable to relate to British characters. His 1995 adaptation of Frances Hodgson Burnett's "A Little Princess" was forcibly relocated from London to New York.

"After that, Harry Potter came along, and all those cultural or geographical lines were broken," he says. "When 'The Lion, The Witch and the Wardrobe' was being developed at Paramount, the imperative was to set it in the U.S., and it just doesn't hold. You can find some way to adapt it, but it's not the book."