PotterCast 128: Hufflepuff Shoes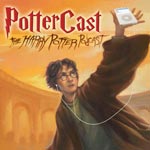 Dec 10, 2007
Uncategorized

It's back to the normal show this week with PotterCast, our Harry Potter podcast, as we continue where we last left our Bit by Bit crew with Chapter Five of "Harry Potter and the Deathly Hallows" and pick up with the Trelawney and Umbridge storyline in our analysis of the fifth film in Phoenix Files. The Scribby 5 girls discuss an essay about the character of Albus Dumbledore from their recently released 21st issue while Fan Thoughts continues new comments regarding the fifth chapter of "Deathly Hallows." In the news this week, we have new updates from Jo on her website, Construction Photos of the Theme Park, and more info on the December 11th US release of the "Harry Potter and the Order of the Phoenix" DVD including clips that are now online. To listen, just hit the "Play" button on the right side of the page (–>), or use iTunes, or direct download.
"Hufflepuff Shoes"
– How about a magic handbook?
-News from the Queen of all things.
-DVD Release and Clips now online.
-Fan Thoughts on "Fallen Warrior."
-Discussing the essay from Issue 21 titled "St. Dumbledore's Feast: The Secret Identity of Albus Dumbledore Revealed."
-Umbridge PWNs.
-Where do Phoenixes come from?
-Live PotterCast at Terminus!
-We need Holiday Filks!
-We are sold out, but not all out, of Jingle Spells.
RT: 1:22:30
Editor: Stede Bonnett
Scribbulus
Podcast Alley
Digg
Terminus 2008
Direct download (38 MB).
Direct download low-bandwidth (9 MB).
Remember you don't need an iPod to listen. Listen easily on iTunes, which you can download and install here, by clicking here to listen, or you can just use the streaming Flash player at PotterCast.com or just on the right side of this page. Discussion of the PotterCast is right here. Enjoy!