New Role for Robert Pattinson in "Twilight" Film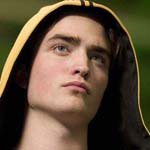 Dec 11, 2007
Uncategorized
Robert Pattinson, who portrayed the character of Cedric Diggory in the "Harry Potter and the Goblet of Fire" film has been cast in a new role for the film adaptation of the first book in Stephenie Meyer's series, "Twilight." It was announced today via a press release on the author's site (PDF download here) that Mr. Pattinson will be taking on the role of Edward Cullen in the upcoming film. Stephenie Meyer is quoted on her website as saying of this casting announcement:
I am ecstatic with Summit's choice for Edward. There are very few actors who can look both dangerous and beautiful at the same time, and even fewer who I can picture in my head as Edward. Robert Pattinson is going to be amazing.
The press release also quotes Summit Entertainment's President of Production Erik Feig who speaks on the casting of such a unique and popular character by saying:
"It's always a challenge to find the right actor for a part that has lived so vividly in the imaginations of readers but we took the responsibility seriously and are confident, with Rob Pattinson, that we have found the perfect Edward for our Bella in TWILIGHT."
The film is set to begin production in February 2008 with Kristin Stewart ("Panic Room") taking on the aforementioned role of Bella Swan. You can find the first novel of the series, "Twilight," in our own Cauldron Shop along with its next two chapters "New Moon" and "Eclipse."
Thanks to Tempest and Candace for mailing!