Imelda Staunton Receives London Critics Circle Nomination for OotP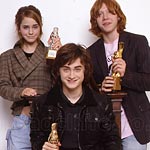 Dec 15, 2007
Uncategorized
The London Critics Circle have released their nominations for their annual awards ceremony which highlight achievements made in British cinema and by British actors. Actress Imelda Staunton, who portrayed Dolores Umbridge in the "Harry Potter and the Order of the Phoenix" film, received a nomination for that role in the category of 'British Actress in a Supporting Role.' Fellow nominees in this category are: Saoirse Ronan ("Atonement"), Tilda Swinton ("Michael Clayton"), Kelly Macdonald ("No Country for Old Men"), and Vanessa Redgrave ("Atonement").
Along with Mrs. Staunton, fellow Harry Potter film actors Julie Christie (Madam Rosmerta), Toby Jones (Dobby), and Helena Bonham Carter (Bellatrix Lestrange) received nominations for their work in other various films this past year. You can view the full list of categories and nominations here via Variety. The London Critics Circle awards ceremony will take place in London on February 8.
As we told you earlier in the week, "Harry Potter and the Order of the Phoenix" also received a nomination for "Family Film (live action)" at the Broadcast Film Critics Awards. Congratulations Imelda!