Behold the Tale of Babbity Rabbity!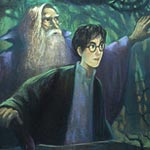 Dec 16, 2007
Uncategorized
Ron Weasley would like this news as Amazon.com has now updated with their review of "Babbity Rabbity and her Cackling Stump," which you can read here. Be sure to check the www.amazon.com/beedlebard link for additional photos of the "Tales of Beedle the Bard," and earlier reviews from the special book written by J.K. Rowling. Enjoy!
Thanks Beth and to all who owled!