Newsweek Names "Harry Potter and the Deathly Hallows" Best Book of the Year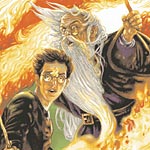 Dec 16, 2007
Uncategorized
The end of the year list mania continues as Newsweek magazine has selected "Harry Potter and the Deathly Hallows" as their Best Book of 2007. In an article titled "Wizards, Warmongers and the West Coast," the magazine lists their 15 best books, with the final installment of the Harry Potter series at the number one spot. They write:
Harry Potter and the Deathly Hallows. J. K. Rowling.
You could call it the most satisfying ending to a guessing game since the casting of Scarlett O'Hara. The seventh and final installment of the Potter series went in no radical directions [spoiler omitted here], but Rowling made it look effortless when she niftily tied off one plot line after another. The kids who grew up on these novels–and therefore can't help but take them somewhat for granted–have no idea how lucky they are.
Also, earlier Time magazine posted 50 top ten year end lists, and ranked "Deathly Hallows" at number eight on their list of "Best Fiction Books" of the year. The magazine states of the novel by J.K. Rowling:
There's no point in trying to finesse the importance of Harry Potter. In seven books Rowling proved that books can still be a true global mass medium, and that significant chunks of the known world can still embrace a single story. Deathly Hallows finds Rowling is in fine form, pulling all the stops she'd been saving up. She gives us wartime gloom, the crackling three-sided chemistry of Harry and Ron and Hermione, and an epic, cataclysmic finale, among many other minor treats. This isn't the most elegant of the Potter volumes, but it feels like an ending, the final iteration of Rowling's abiding thematic concern: the overwhelming importance of continuing to love in the face of death.
Thanks to all who emailed!