Preview of PotterCast with J.K. Rowling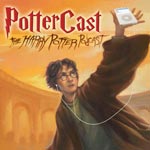 Dec 17, 2007
Uncategorized
As we have previously posted, early tomorrow we will post the first-ever podcast interview with J.K. Rowling on PotterCast, our Harry Potter podcast. It's a rare, informal, discussion which slides between detailed canon, larger statements about the series and writing, and casual banter.
The interview occurred just after the sale of her handwritten book, "The Tale of Beedle the Bard," for $3.98 million (it was not yet known that the buyer was Amazon.com). We speak of Beedle and the morals in those tales, and Jo reveals that she originally thought there would be thirty or so, but revised that estimate when she conceived the idea of writing them all out by hand.
"'Babbity Rabbity and Her Cackling Stump,' is the stupidest title ever written by man or beast," she says, laughing. "When I wrote it I had not, at the point when I gave Ron that title, I didn't imagine for a second that I was actually going to write the story….I really liked the idea of keeping those titles and then finding out what the stories were."
She also addresses long-held fan questions about pieces of minute canon, such as the "missing 24 hours" in her timeline, certain characters' lineage, and the workings of Horcruxes and how they are made. Of course, we also talk about larger issues, such as the recent announcement that popular Hogwarts headmaster Dumbledore was gay.
"In the wizarding world…I think you could be gay, pureblood, and totally without any kind of criticism from the Lucius Malfoys of the world. I don't think that's something that would interest him at all. But I can't speak for all witches and wizards," she said. "To me it was only relevant in as much as Dumbledore, who was a great defender of love and who sincerely believed that love was the greatest, most powerful force in the universe, was himself made a fool of by love."
We also learn more about wands, which parts of the backstory made her editor want to vomit, the main trio of characters' post-book-seven plans, and her intentions to "absolutely" write and publish an Harry Potter encyclopedia (jokingly referred to as "The Scottish Book"), but not until she can make sure it's "done right" and "gives everything." She also speaks to what she terms her heavy involvement in the the creation of the new Harry Potter theme park in Orlando, Florida, assuring it will have quite a lot of "the Jo touch," as suggested by John.
It's a very relaxed and fun talk, more so than would be a "formal" interview, and we can't wait to share it with you. Stay tuned to this page or pottercast.com/jkrowling for more. To make sure you get the file as soon as it's released, subscribe via iTunes: