J.K. Rowling named Runner-Up for Time's Person of the Year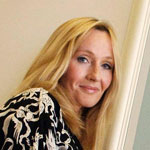 Dec 19, 2007
Uncategorized
Time.com's Person of the Year (Vladimir Putin) was announced this morning. Though we knew JK Rowling was on the shortlist, the nominees have all been profiled on the magazine's Web site. J.K. Rowling's profile spans the whole phenomenon, the author's plans, and more.
The article also mentions the HP Alliance's summer podcast (as played on PotterCast), "Becoming Dumbledore's Army." The episode saw more than 100,000 downloads and, "In the days that followed, the student antigenocide coalition stand saw a 40% increase in sign-ups for high school chapters and a 52% increase in calls to its hotline, 1-800-GENOCIDE."
"When asked about the group, Rowling practically levitates off the couch, spilling her coffee along the way. "It's incredible, it's humbling, and it's uplifting to see people going out there and doing that in the name of your character," she says. She's especially pleased by the group's choice of mission, and the old Amnesty International worker in her surfaces. "What did my books preach against throughout? Bigotry, violence, struggles for power, no matter what. All of these things are happening in Darfur. So they really couldn't have chosen a better cause."
TIME has also put up a 10 Questions article in which we learn whom Draco married (more on this is also to be on the next PotterCast) and hear more about those who came from the Resurrection Stone, the epilogue, and more.