J. K. Rowling Named Among MSN's Most Influential Women of 2007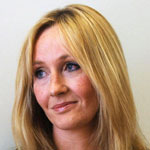 Dec 21, 2007
Uncategorized
More news comes today concerning J. K. Rowling, the author of the Harry Potter books has been included in MSN's list of The Most Influential Women of 2007. Included along with Ms. Rowling on the list this year are such influential people as Senator Hillary Rodham Clinton, writer Tina Fey, and singer Carrie Underwood. The Lifestyle section of MSN notes of their choice:
This bittersweet year marks the last time anyone will be able to enjoy that most delicious of treats: a new Harry Potter novel. Rowling's wizarding world has not so much influenced modern culture as grown roots deep into the heart of it. From new words (muggles) to new drinks (some fools make their own butterbeer from Michelob Light and butterscotch Schnapps) to a new generation of kids who (gasp) read for pleasure, Rowling's epic fantasy series has made a lasting impact on, well, just about all of us. Her revelation this fall that beloved Hogwarts headmaster Albus Dumbledore is gay created a stir among fans that was mostly applauded. Whatever project Rowling has in store next promises to be a hot seller, if not a future big-screen blockbuster.
On a related note, The Associated Press released their annual Celebrity of the Year honor. For 2007, J. K. Rowling came in second place behind TV satirist and entertainer Steven Colbert of the Comedy Central program The Colbert Report. This list of people who AP feels have had the greatest impact on pop culture in 2007 was chosen by newspaper editors and broadcast producers. Congratulations Jo!
Many thanks to Amy S!