Directors Asked How They Would Bring the Magic to the Final "Potter" Films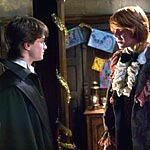 May 11, 2007
MTV.com has an article online asking some popular film directors such as George Miller, director of "Happy Feet," Rob Zombie, of the horror flick "Halloween," and "Pan's Labyrinth" director Guillermo del Toro, of how they would take on the magical world if they were chosen to direct the final film, Harry Potter and the Deathly Hallows.
Guillermo del Toro speaks in the article of how he might like to see Prisoner of Azkaban director Alfonso Cuaron back for the Seventh film, saying:
"I actually got offered the third one, before Alfonso, and I actually asked the question, 'What about Alfonso?' Because I thought he was perfect for it. I really love the books, they're incredibly rich and textured, incredibly well-informed and- researched, and I think they have a very dark universe — it's actually darker than the movies have been, up until Alfonso came on board. Now they have a darker tone. I would hope that he would return, because out of all the movies that I've seen, that have been released, his is the one that I've liked the most. I would love for him to come back into that universe. I hope he gets to play in it again."
You can read the rest of Mr. del Toro's interview as well what the other directors have to say about the film on MTV.com, but parents should be cautioned, this article does contain quotes from some directors that contain adult language that may not be suitable for younger readers.
Thanks to savingedmund for emailing.