Tour the 'Harry Potter' Set from Odeon Theaters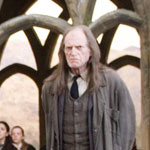 Jun 29, 2007
Uncategorized
ODEON theaters in the UK have launched a new contest, UK residents who book tickets online to Harry Potter and the Order of the Phoenix will automatically be entered into a drawing to win a special visit to the Harry Potter set. One winner and a guest will travel to Leavesden Studios, where the Harry Potter movies are filmed, and get to tour the set as well as meet with members of the cast. The ODEON site features full details on the prize and eligible entrants as well as gives more detail on the prize activities, saying:
Once on set, you will be taken through some of the most popular locations from Harry's world. Your tour will include a special lesson where you can learn how some of your favourite magical effects come to life before your eyes. Along the way, you'll also meet some of the celebrity animals that make Hogwarts so special. And if that's not enough, you may even encounter some of the magical creatures that inhabit the school.

A fabulous feast will await you on the famous Great Hall set where a make-up team will be on hand to give you your own uniquely magical complexion. And to round off your experience, prepare for another amazing highlight: the chance to meet some of the Harry Potter cast members for your very own photo that will be the envy of your family and friends for years to come!
This contest is open to UK residents aged 8 or older and ends on July 22nd. Good luck!
Thanks to our own James for the heads up!