Leaky's Deathly Hallows Release Party Announced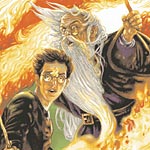 Jun 09, 2007
Uncategorized
Those at today's Live PotterCast at the Chicago Printer's Row Book Fair got the scoop, but we're happy to be able to announce here that on July 20, Leaky will celebrate the release of Harry Potter and the Deathly Hallows in Naperville and Downers Grove, Ill., just outside Chicago.
We've been invited to take part in Anderson's' Bookshop's megabash, which, for the last release, attracted near 50,000 people. This year they're expecting even more. There will be live PotterCasts, live events on the massive stage near midnight, costume constests, and more. Several blocks of both towns (which are right near each other) will be blocked off for the event, which involves hundreds of vendors, and a plethora of activities, which we will detail further as we get closer to that date.
This party is one of the biggest nationwide, and has been featured on national television programs including "The Today Show." We are especially thrilled because this event is in the central U.S. and close to a huge portion of fans. We will have information about hotels, directions, itineraries, activites, podcasts, and much, much, much more very soon.
See you there!