New York Times Looks Back on the Evolution of Potter Films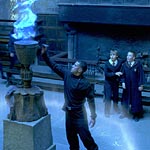 Jul 14, 2007
The New York Times has a new article and video feature online contrasting and examining the directors of the first five Harry Potter films, along with the themes, effects and actors that have evolved in step with the films. The article first discusses the four directors of the series: Chris Columbus, Alfonso Cuarón, Mike Newell and David Yates, and the distinct vision they have brought to each film along with the advancing effects used to tell the story. It is also noted how each director advanced the darker tones in the story, with the a darker look, characters and story that was paralleled by author J. K. Rowling originally in the books. From the article:
Just as the "Harry Potter" books may have spurred children to reach for more adult fare, the films may be accomplishing much the same in the cinematic realm, initiating them into the pleasures of more genres. The first two movies, directed by Chris Columbus ("Mrs. Doubtfire' "Home Alone"), played much like kiddie comedies, with plenty of mild gross-out humor and schoolboy antics (like the mishap-strewn joy ride taken by Ron and Harry in "Chamber of Secrets' above left). But by the third film, "The Prisoner of Azkaban' directed by Alfonso Cuarón, the tone and color palette have shifted, the bright, flat lighting giving way to a somber and dangerous feel, evocative of horror films (above center).
An accompanying interactive feature, presents the audio commentary of Manohla Dargis and A. O. Scott, who wrote the piece, expanding on their thoughts written in the article. Their commentary is featured over a series of clips from the films, which you can fade in and out from the films audio.
Thanks much to blulzrd and GN for emailing!