Paris "Order of the Phoenix" Premiere Pictures Online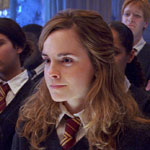 Jul 05, 2007
Uncategorized
The Paris premiere for Harry Potter and the Order of the Phoenix was held the other evening and we now have a few pictures from the event online. Emma Watson (Hermione Granger) and Rupert Grint (Ron Weasley) attended the event along with OotP director David Yates who also made an appearance at a prior photocall in Paris. These pictures are online via Getty images, which also feature the red carpet arrivals of many people including Emma, Rupert and Mr. Yates.
On a related note, we received word from HarryPotter-Xperts the Swiss premiere took place yesterday in Zurich. We now have a few pictures from that event, which was attended by Kaite Leung (Cho Chang) and Oliver Phelps (George Weasley), here in our image galleries.
Order of the Phoenix will next be premiering in the States on July 8th. Taking place in Los Angeles, CA, TLC will be in attendance and bring you continued coverage from the event. Phoenix will be released in theaters July 11.
Thanks to all who mailed!