MTV Looks Forward to "Half-Blood Prince" in 2008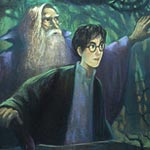 Jan 07, 2008
Uncategorized
With the start of the new year come the lists of anticipated films due in the months ahead. MTV has a new article now online regarding the movies they are most looking forward to seeing, naming "Harry Potter and the Half-Blood Prince" at the number two spot behind "Bond 22." They write of the sixth Harry Potter film as follows:
"Harry's going to kiss Ginny! Ron's going to get an intimate whiff of Lavender Brown! Somebody really, really important will die! Although loyalists already know the major "Prince" plot points, all eyes are on director David Yates as he attempts to bring them to life while matching the book's emotional impact. Last year's "Order of the Phoenix" gave us darker imagery and dramatically heftier acting from the leads. Now, with the magical series winding down, could "Prince" be the film that finally stirs up Oscar buzz for Daniel Radcliffe, Rupert Grint and/or Emma Watson? With enormous sets like the underground cave that houses one of Voldemort's Horcruxes, and new characters that include Jim Broadbent's enigmatic potion master, Horace Slughorn, Yates certainly has his work cut out for him. If only there were a spell that could transport us to November."
As we reported previously, Half-Blood Prince is currently in production, with many of the scenes featuring the students due to be recorded in the following weeks. Actor Alan Rickman is also due to film this month, returning again in his pivotal role of Professor Severus Snape. Harry Potter and the Half-Blood Prince will be released on November 21, 2008.