Stuart Craig to Receive Lifetime Achievement Award from Art Directors Guild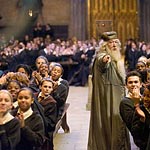 Jan 12, 2008
Uncategorized
The Art Directors Guild will honor Harry Potter production designer Stuart Craig this year, as he will be given a special Lifetime Achievement Award. Stuart Craig, who has been nominated for the Oscars twice for his production design work on the Harry Potter films, and has won the Academy Award three times for his work on other films such as The English Patient and Gandhi, will be given this special honor when the Guild presents their awards next month.
Also, Harry Potter and the Order of the Phoenix has been nominated for an award from the Art Directors Guild, receiving a nod for excellence in production design, Fantasy Film category. Other films nominated along with Stuart Craig's work on OotP include Dennis Gassner for "The Golden Compass, Rick Heinrichs for "Pirates of the Caribbean: At World's End," Harley Jessup for "Ratatouille" and James Bissell for "300."
The 12th Annual Art Directors Guild Awards will be presented in Los Angeles, California on February 16. Congratulations Stuart Craig!