"Harry Potter and the Deathly Hallows" Nominated for Two Nebula Awards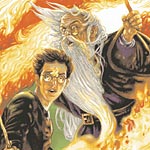 Jan 21, 2008
Uncategorized
The seventh book in author J. K. Rowling's series, "Harry Potter and the Deathly Hallows," has been nominated for two awards in the preliminary ballot for the Science Fiction and Fantasy Writers of America's Nebula Awards. This non-profit group which aims to bring together the 'most successful and daring writers of speculative fiction throughout the world,' presents awards each year to a particular novel, novella, novelette, script, and short story that eligible voters have deemed the best of the year. "Deathly Hallows" has been nominated in the Best Novel category among many other notable fantasy and science fiction works from 2007. In addition to this nomination, "Harry Potter and the Deathly Hallows" has also been included in the running for the Andre Norton Award, which was established to 'recognize outstanding science fiction and fantasy novels that are written for the young adult market.' More about the Nebula Awards, including its past winners, can be found right here.
The awards ceremony will take place during the weekend of April 25th in Austin, Texas. The winners will be chosen by eligible members of the SFWA when the final ballot is published prior to the ceremony.
Many congratulations Jo!