PotterCast 136: Conversations with Paul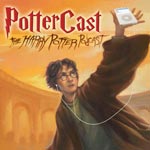 Jan 29, 2008
Uncategorized

The newest episode of our Harry Potter podcast, PotterCast, is now online and includes an extended conversation with Harry and the Potter's singer Paul DeGeorge. Paul joins Melissa, Sue, and John this week to discuss the Harry Potter EP of the Month Club, which has just opened up for subscriptions, as well as much more about wizard rock and charity in this new year. This episode also marks the return of the Phoenix Files and Bit by Bit segments. In Phoenix Files, we talk about moments from the OotP including: the fireside chat with Sirius and the Hog's Head meeting, while Bit by Bit delves into the sixth chapter of "Deathly Hallows." In the news this week, we bring you the latest "Half-Blood Prince" filming and casting news, the possible Wizarding World of Harry Potter opening in December of 2009, as well as Dan Radcliffe's new role as journalist Dan Eldon in an upcoming film about his life. To listen, just hit the "Play" button on the right side of the page (–>), or use iTunes, or direct download.
"Conversations with Paul"
– Big Filming News.
– Melissa thinks "No Funeral."
– New Wizard Rock EP of the Month Club.
– Talk about the Harry Potter Alliance.
– "Makes me wanna throw my shirt off!"
– Hip Hop Wizard Rock.
– Part One of Chapter 6 "The Ghoul in Pajamas" in Bit by Bit.
– Trio's fireside chat with Sirius ' he's not a blob this time!
– More public service announcements from Harry and the Potters coming soon?
RT: 1:14:10
Editor: Jeff Gregory
Scribbulus
Podcast Alley
Digg
Terminus 2008
Harry Potter EP of the Month Club
Direct download (44 MB).
Direct download low-bandwidth (9 MB).
Remember you don't need an iPod to listen. Listen easily on iTunes, which you can download and install here, by clicking here to listen, or you can just use the streaming Flash player at PotterCast.com or just on the right side of this page. Discussion of the PotterCast is right here. Enjoy!