J.K. Rowling Named Overall Great Briton of 2007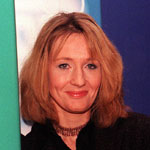 Feb 01, 2008
Uncategorized
Harry Potter author J.K. Rowling has been named the Morgan Stanley Overall Great Briton of 2007 as well as the winner of the Great Briton, Arts category. As we reported last month, Jo was nominated for these awards which recognize those who "contributed exceptional achievements to their field this year in a distinctly British way," and had been shortlisted in the Arts category along with actor Sir Ian McKellen and artist Damien Hirst.
Naming Jo for both honors, The Telegraph reports:
A publishing phenomenon, JK Rowling has changed reading habits and patterns worldwide. The success of the Harry Potter books – the final novel in the series sold 11 million copies in its first 24 hours – has united a generation of children and parents in a genuine love of reading.
The judges felt Miss Rowling had transformed the world's view of Britain and that her books are "brilliantly British". That she also managed to top the best-seller list in France with Harry Potter and the Order of the Phoenix, the first English-language author to do so, is a further testament to her global appeal. Rowling has left an indelible mark on the nation's literary history, which is why the judges insisted that she should receive double honours, winning the arts category and be named the Morgan Stanley Overall Great Briton of 2007.
UPDATE: The Scotsman reports Jo was unable to attend the awards ceremony, and "accepted the award by video from her home in Edinburgh, described 2007 as "a very bittersweet year for me" but said she was "thrilled and honoured" to receive the prize."
Congratulations Jo!