"Half-Blood Prince" Filming Underway in Gloucester, Contest for Photos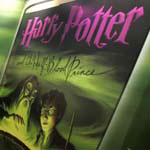 Feb 06, 2008
Uncategorized
UPDATE: Further our report below, This is Gloucestershire is reporting that actors Alan Rickman (Professor Snape), Tom Felton (Draco) and Dame Maggie Smith (Professor McGonagall) are now on set at the Cathedral for filming as well as Dan Radcliffe (Harry Potter) and Rupert Grint (Ron Weasley). The article, which is continuously being updated, now states both Rupert and Alan have been "caught on camera in full make-up". The paper reports "Two sets of crutches were also spotted arriving at the set – leading to speculation the scenes after Ron falls from his broom in a game of quidditch could be being filmed. It is believed filing will go on until 7pm tonight, and will be finished at the Cathedral by the end of tomorrow. " You can see a photo of Alan Rickman as Snape here, as well as Rupert Grint as Ron Weasley, here.
UPDATE 3: The BBC has a batch of new photos from the filming today, including new photos of "Half-Blood Prince" director David Yates, James Phelps (Fred Weasley) who is working as a runner on the film as well, new Rupert Grint here and here, local students as extras seen wearing their Hogwarts robes, doubles for Draco Malfoy, Snape and more.
UPDATE 2: Thanks to Oclumencia, we can now see photos of Dan Radcliffe (Harry Potter) arriving on the set as well as larger photos the Alan Rickman photos from earlier today. At this link, you can also see a slide show of some newer photos, including the doubles of some of the actors arriving today as well. You can also see more set preparation photos here via the BBC, which also has this preview article regarding the filming for "Half-Blood Prince." More when we get it! As always, anyone attending the filming, please send in your report and photos which we will post.
As we reported last week, location filming for Harry Potter and the Half-Blood Prince is set to begin today, with the Cloisters of Gloucester Cathedral closed now through February 8. Many cast members including Dan Radcliffe (Harry Potter), Emma Watson (Hermione), Robbie Coltrane (Hagrid), Dame Maggie Smith (Professor McGonagall) are due for this location filming. As such, This is Gloucestershire has launched a new contest for photos of the visiting stars, as the paper notes "Anyone who manages to capture a photo of one of the major cast members should submit a copy of the picture to us – and win themselves £20." You can find more information about this contest here. In addition, the paper has also added a few new set preparation photos here. Be sure to see the HBP location photos readers have sent us previously here in our galleries, and as always, anyone who attends the filming over the next few days, please send in your reports and photos which we will post.