Lexicon Article Updates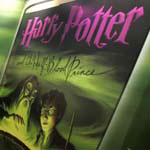 Feb 09, 2008
Uncategorized
A couple of quick updates in the Lexicon case, in which J.K. Rowling and WB are trying to stop publication of an unofficial encyclopedia based on the Harry Potter Lexicon web site:
First, Steve Vander Ark, editor of the Lexicon, wrote Ansible, a prominent British fan zine, in defense of RDR Books' case, saying, among other things, that "Part of the problem all along has been the automatic assumption on the part of many that Rowling has the right to completely control anything written about the Harry Potter world. That's quite a huge power grab on her part and from everything I can tell, not legal."
The letter also says: "[Dave Langford, editor of Ansible] and I are part of a subculture that lives off the creative work of others. We always try to do that in a legal and respectful way. However, if Rowling manages to extend her reach that far into our subculture, she will choke us off very quickly. And if she doesn't, what's to stop the next person from taking this legal precedent to even more dangerous places?"
In addition, a new opinion piece in the NYT Business section also calls the case a "power grab" and attempt to "choke" creativity by J.K. Rowling, and calls her a "copyright hog," before going on to extensively profile Attorney Falzone and the Stanford U. Fair Use Project, which is arguing for the RDR Books' side of the case. There is very little talk in this editorial of the merits of the actual Lexicon case or whether the book falls into fair use (in fact the article assumes that it does), only a wide and generic look at the history of copyright law and how this case may or may not fit into it.
As for the expected filings on the case: Some will come tomorrow afternoon (they will be filed overnight and take some time to process), and one exhibit, over 15MB in size, can only be filed in hard copy. That file is of some companion books already on the market, so there may not be any need to have it available for download.
We'd like to remind everyone to please be civil in the comments.