PotterCast 138: This Is SnoggCast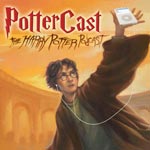 Feb 11, 2008
Uncategorized

PotterCast, our Harry Potter podcast, is here today bringing you its 138th episode of Harry Potter news, discussion, and information. This week the PotterCast Trio has the latest in Harry Potter news including the new reports and pictures from the "Half-Blood Prince" filming at Gloucester Cathedral, the casting of Pansy Parkinson, OotP's six nominations at the Empire Awards, as well as new interviews J. K. Rowling and nominations for Jim Dale. Next, we have a new Bit-by-Bit where the topic of Harry's private birthday present from Ginny Weasley from the first part of Chapter 7, "The Will of Albus Dumbledore," is talked about. Kissing is also on our minds during this week's Phoenix Files where we discuss the long-awaited kiss between Harry and Cho. After that, our Scribby girls give you info on their next essay call and talk of the latest essays on Dumbledore. Finally, we have for you the long-awaited announcement of a very special venture we've been planning. To listen, just hit the "Play" button on the right side of the page (–>), or use iTunes, or direct download.
"This Is SnoggCast"
– Latest "Half-Blood Prince" Filming news.
– TwilightCast?
– Part 1 of Chapter 7, "The Will of Albus Dumbledore."
– Hermione packing and washing Ron's underwear.
– Dead Cedric's disapproval.
– John has a new question to ask Jo.
– Snake Tease.
– Discussing essays about Dumbledore.
– LeakyCon 2009!
– New P.O. Box Address coming soon!
RT: 1:02:34
Editor: Jeff Gregory
Scribbulus
LeakyCon 2009: A Harry Potter Conference in Boston
Podcast Alley
Digg
Terminus 2008
Direct download (29 MB).
Direct download low-bandwidth (7 MB).
Remember you don't need an iPod to listen. Listen easily on iTunes, which you can download and install here, by clicking here to listen, or you can just use the streaming Flash player at PotterCast.com or just on the right side of this page. Discussion of the PotterCast is right here. Enjoy!