Toy Fair 08: New Gentle Giant Fred, George, Lupin Mini-Busts, New NECA Figures and More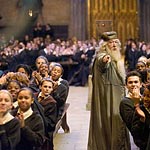 Feb 17, 2008
Uncategorized
Toy Fair 08 is currently underway in New York City, where manufacturers preview their new products for the upcoming year, and on display are a few new Harry Potter items.
First, Gentle Giant has revealed a Fred and George Weasley mini bust 2-pack, and a rather alarming Remus Lupin "werewolf variant mini bust." UPDATE: They are also offering the Tri-Wizard Champions set, featuring Hufflepuff great Cedric Diggory, Victor Krum, Fleur and Harry PotterYou can see photos of these items here courtesy of Cool Toy Reviews and Figures.com. These items will be limited in availability; more information on this here. Others on display include this very limited edition of Voldemort and Harry. Others due to be released soon include the Tonks, McGonagall and Lupin (non-werewolf state).
Also, NECA, who hold the North American license for Harry Potter action figures and more, have updated to say they will be revealing those five new Harry Potter figures we told you about previously. Photos are due soon, and we will update once they are available. Please note, as stated on their MySpace page, the company will NOT be revealing any of the new Harry Potter and the Half-Blood Prince items at Toy Fair this week alas.