PotterCast 140: Are YOU Smarter Than John Noe?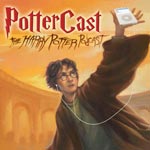 Feb 26, 2008
Uncategorized
The 140th episode of
PotterCast, our Harry Potter podcast, is online this evening with the world premiere of "Are You Smarter Than John Noe?" where five callers match wits with our own John Dawlish. In the news this week, the PotterCast Trio talks of David Yates possibly returning to direct the "Deathly Hallows" film, the new scene added to the "Harry Potter and the Half-Blood Prince" film, and further HBP casting announcements. Along with this we have the latest Bit-by-Bit where we talk about Bill and Fleur's wedding as well as the appearance of Xenophilius Lovegood and Luna. The topic of socks are on the minds of our Scribby5 girls, who discuss spoof essay "Sock It To Him" and update on their latest spoof essay call. Finally, the PotterCast Trio is joined by Meg from the SugarQuill to discuss the particulars of the upcoming PotterCast Acting Troupe. To listen, just hit the "Play" button on the right side of the page (–>), or use iTunes, or direct download.
"Are YOU Smarter Than John Noe?"
– The first edition of ˜Are You Smarter Than John Noe?'
– First Bit of Chapter 8 ' Bill and Fleur's wedding.
– Official Acting Troupe announcements and audition deadlines. Act quick!
– Record yourself as one of the characters.
– Speaking of acting¦ Movie 6 news!
RT: 1:12:59
Editors: Stede Bonnett, Samantha McManus, Liz Turney and Andrew Garner
Scribbulus
LeakyCon 2009: A Harry Potter Conference in Boston
Podcast Alley
Digg
Terminus 2008
Direct download (33 MB).
Direct download low-bandwidth (8 MB).
Remember you don't need an iPod to listen. Listen easily on iTunes, which you can download and install here, by clicking here to listen, or you can just use the streaming Flash player at PotterCast.com or just on the right side of this page. Discussion of the PotterCast is right here. Enjoy!