JKR/WB Respond in Lexicon Suit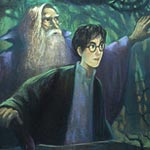 Feb 28, 2008
Uncategorized
JKR and WB have filed a response to the latest filing by RDR Books in the ongoing lawsuit against the publishers of the intended book version of the Harry Potter Lexicon. There are decarations from: J.K. Rowling, author of HP; Cheryl Klein, senior editor at Scholastic Books; Prof. Landes from the University of Chicago; Suzanne Murphy from Scholastic; Emily Blumsack from O'Melveney & Meyers, and Jerri Johnson, Oxford professor, in addition to a main statement summarizing the response.
This is the last filing before a hearing on March 13 to determine if a preliminary injunction will be granted. After that there still may or may not be a trial to determine if infringement has taken place.
(While we wait for the documents to go up on Justia, we are hosting them on Leaky; you can right click any declaration-submitter's name to download their declaration, and the main statement is linked below.)
The main statement says that JKR/WB has proved likelihood of success (if the judge thinks so too it will affect the case's forward motion, if any) and that the proposed book copies an enormous amount of Harry Potter work verbatim. It also says the proposed book falls under a definition of derivative that RDR ignored in its assessment: that it is a "work based on one or more pre-existing works." It says the book is "nothing more than a recast of Ms. Rowling's original text," which differentiates it from the Ty Beanie Baby book cited by RDR because that book contained "critical and evaluative" elements.
It also says the book has been called "supplementary" based solely on a "1966 academic lecture" discussing extending a 99-year-old act's provisions for forewords, prefaces, prologues, epilogues and bibliographies.
The main complaint says that RDR cannot prove that it is likely to succeed on a fair use charge because it does not create "new information, new aesthetics, new insights and understandings." It also says that attempts to cast it as a "serious book" filled with "scholarly commentary and analysis is merely an attempt to excuse blatant infringement." It says "alphabetizing" does not render a work transformative and that reorganizing work does not alone render a work in concert with fair use. (It cites Video Pipeline, Inc., vs. Buena Vista Home Entertainment, Inc., on this claim.) It also argues against the notion that the book is similar in its fair use characteristics to Google's thumbnail image search engine (as maintained by RDR in the last filing) and says there is no original commentary or analysis or "anything else rising to the level of scholarship." It says RDR's expert also agrees, citing the filing that says that the book's chief point is not literary analysis.
It counts 2,034 entries out of the book's 2,437 entries that lift text directly from Harry Potter, and says the remainder "merely [add] adverbs such as 'unfortunately,' 'sadly,' or 'possibly' to descriptions."
On the charge that RDR made that JKR/WB have selectively chosen material to support their claims, this complaint cites a court decision which says "no plagiarist can excuse the wrong by showing how much of his work he did not pirate." It also says that despite Steve Vander Ark claiming he used reference works, none are cited in the book or mentioned in the bibliography, and some appear to be taken from sources "such as Merriam-Webster's Online Dictionary without attribution." It also says entries on Harry and Voldemort basically tell the entire plot of the Harry Potter series.
"While there are many non-infringing books about the Series, books such as the Book are few in number and have been pulled from distribution as a result of Plaintiffs' efforts." It says the book would be a "significant" threat to JKR's market for her book, citing a court decision that said, "once purchased, the consumer is unlikely to purchase a second can opener." It says the RDR marketing materials show that it is positioning the book as more comprehensive than others, and that publication would "signal that others may also free ride off Ms. Rowling's works, flooding the market with copycat works."
The following are summations of the included declarations:
J.K. Rowling's declaration says that she:
1. …is "deeply troubled" by the portrayal of her efforts to protect and preserve her copyrights, "and feel[s] betrayed by Steven Vander Ark, as a person who calls himself a fan."
2. …is "particularly concerned" about RDR's insistence that her acceptance of free fan websites justifies efforts to publish the potential book. "Such a position penalizes copyright owners like me for encouraging and supporting the activities of their respective fan communities. If RDR's position is accepted, it will undoubtedly have a significant, negative impact on the freedoms enjoyed by genuine fans on the internet. Authors everywhere will be forced to protect their creations much more rigorously, which could mean denying well-meaning fans permission to pursue legitimate creative activities."
3. …thinks that "99%" of fans are acting in good faith, and "as I have excellent relations with many members of the fan community, I find it devastating to contemplate the possibility of such a severe alteration of author-fan relations. I continue to believe that the online fandom has been a wonderful experience for thousands of people, myself included; that it has become, not only an enormous global book club, but engendered an explosion of creativity and communication rooted in a world we would all like to inhabit."
4. …reiterates her statement that she has said she plans to publish a definitive Potter guide, and her intentions to donate the proceeds to charity. She says the Bloomsbury version of the Potter guide has already been given to her, and that she has begun "assembling and organizing" materials. "Naturally this means that my encyclopedia will contain all information in the published books. To suggest that I would omit from my encyclopedia the information already made available in the novels, can only spring from a willful misinterpretation of a selective quotation. I fully intend to write this encyclopedia, however..I am not prepared to commit to another deadline [and] do not believe I should be forced to make such a commitment or run the risk of losing the right to create my own encyclopedia on an exclusive basis. I thought that this was part of what my rights were as an author and copyright holder. I also feel strongly that RDR is attempting to interfere with my creative process by repeatedly arguing that a timeline for publication of my Harry Potter encyclopedia is necessary in order to prove that I mean to publish one at all. I am not a person to make statements lightly, particularly when it comes to statements that ultimately will set expectations for my fans."
5. …is disheartened by Steve Vander Ark's actions despite long-time knowledge of her intention to write this encyclopedia, and responds to RDR's request for her to prove her intention by citing her seven published novels and two published charity books, and says that she does not think any "reasonable person would question my good faith in this regard."
6. … feels the premise that fans will buy both encyclopedias is "presumptuous and insensitive," owing the first to an assumption that everyone would want to have two encyclopedias and the second to assuming they could afford both. "..it is obvious to me that many people do not have money to buy every book that appeals to them."
7. …says RDR has misquoted her or taken statements out of context. She refers to the joking comment on PotterCast about taking "ten years" to do the Harry Potter encyclopedia as misrepresentive and "inappropriately cut off at a selective moment…the very next thing i said in that interview is that I wanted to give people everything in the companion guide and do 'the absolute definitive guide.'"
8. … says that when she awarded the Lexicon the Fan Site Award she never thought it would be used by Steve Vander Ark to "attempt to legitimize an attempt to profit financially form my work. At that time I believed him to be…a true enthusiast who simply wished to share his enjoyment of Harry Potter with others." She says the oft-quoted citation in which she used an Internet cafe to check a fact rather than purchasing a copy of her own books is representative of "its only value to me" being "that it was occasionally more convenient to access, in a situation where I was likely to be recognized in public, than it would have been to walk into a bookstore and purchase" Harry Potter. She also says she has never indicated that any FSA winner is a "favorite" and never intended for the award to be taken by "anyone as an authorization for them to create and sell [an] infringing Harry Potter book for profit."
9. …feels "intensely protective" of the world she created and of the fans who have bought "my books in such huge numbers. I feel that I have a duty to these readers to ensure, as far as possible, that Harry Potter does not become associated with substandard versions, whether in the world of film or in any other medium. I believe that RDR's book constitutes a Harry Potter 'rip off' of the type I have spent years trying to prevent and that both I, as the creator of this world, and fans of Harry Potter, would b e exploited by its publication."
10. …feels frustrated that a "former fan" has tried to "co-opt my work for financial gain. The Harry Potter books are full of moral choices and ethical dilemmas, and, ironically, Mr. Vander Ark's actions tend to demonstrate that he is woefully unfit to represent himself as either a 'fan of' or 'expert on' books whose spirits he seems entirely to have missed."
Cheryl Klein's declaration:
The declaration from Cheryl Klein addresses the RDR submission of a note she had written to Steve Vander Ark in 2005, complimenting his work, after the publication of Half-Blood Prince. It points out that Steve Vander Ark once said to Ms. Klein that one of the purposes of the Lexicon was to dissuade people from publishing unofficial encyclopedias, in deference to rights J.K. Rowling has reserved.
The declaration says, "It is my practice to foster good relations with the Harry Potter fan community…it was in this vein that I wrote the note…as a friendly gesture of good will…At no time did I ever say anything to Mr. Vander Ark to suggest that it would be acceptable for him to publish a Harry Potter encyclopedia."
Her declaration goes on to say that "to the contrary," Steve Vander Ark made clear to Ms. Klein that his understanding was that J.K. Rowling had reserved the rights to produce her own encyclopedia. The documents cite an e-mail from August 3, 2006, in which he apologized for a comment he had made at a fan event (the conference Lumos 2006, which Cheryl Klein attended in an unofficial capacity) and said that "one of the purposes of the Lexicon was to dissuade other people from writing a Harry Potter encyclopedia in light of Ms. Rowlnig's intentions."
The documents quote the email's postscript, which says, "PS It might interest you to know that George Beahm [a third party author] commented that he had originally intended to write an encyclopedia of Harry Potter (which Jo has specifically reserved for herself, I understand) but seeing the Lexicon convinced him not to bother. I want you to know that one of the express purposes of the Lexicon is to dissuade people from that sort of thing, so I was particularly happy to hear him say that."
Emily Blumsack's declaration (and her exhibits)
Emily Blumsack, a lawyer for JKR/WB, assesses each of the books that RDR claims is similar enough to the proposed Lexicon book to indicate that permission to publish such books has already been granted. She also monitored fan activity and noted several statements made by Steve Vander Ark and others. She notes that:
RDR recognized in a previous email that there was no clear competitor or book like the proposed Lexicon in print, and that every other book on the subject was out of date, which speaks against the RDR claim that there are other books like the Lexicon's on the market.
RDR recognizes the advantage of being first to publish and advised Steve Vander Ark not to publish book seven contents on his Web site to avoid that content being co-opted by MuggleNet, who was considering publishing an encyclopedia at the time (they stopped when they received a cease-and-desist from the Christopher Little Agency). The email from RDR to Steve Vander Ark said, "Remember, Mugglenet would love to see your book 7 material on the web. I would appreciate it if you would not put the book seven updates on your website until after your book has been out for awhile. Sound like a good idea?"
The declaration says that, "upon learning that the competing book was no longer slated for publication…Mr. Vander Ark has since started updating the Lexicon website with this material."
She cites two public statements Steve Vander Ark made on this issue on a public discussion list, one saying that he would go forward with an encyclopedia if JKR decided not to, and that without JKR's permission "I won't publish…in any form except online. [Ms. Rowling is] entitled to that market, not me and not [another author.]
She also mentions that RDR recognizes that Steve Vander Ark's persona presents potential harm to JKR's encyclopedia, by quoting an email from RDR that calls Steve Vander Ark a "rock star" and "Elvis like figure" at fan events. She says also that "Mr. Vander Ark continues to work at remaining well known in the Harry Potter fan community, despite this lawsuit. He has even planned to take a prominent role in these kinds of events through the upcoming year, for example, by featuring as a Harry Potter expert on a tour of Potter-related locations throughout England scheduled for this summer. (This cites that tour as "The Ultimate Tour with Steve Vander Ark," an HP Fan Trips tour – that title was very recently changed to omit Steve Vander Ark's name.)
"In fact, the very same day that Plaintiffs filed…Mr. Vander Ark was speaking in Manhattan at an event sponsored by the New York Public Library entitled, 'Meet Steve Vander Ark, Author of the Harry Potter Lexicon.'"
Ms. Blumsack also notes that 40 percent of the material in the book was written by other members of the staff or guest contributors and volunteers, then quotes two LeakyLounge members (dresdenfiles.fan and cbm) who publicly stated that while they contributed to the Lexicon they had no knowledge that they were contributing to a for-profit book.
She then cites an example of Steve Vander Ark having "sicced" his lawyer on someone who had "written a book which he wants to sell" based on his Web site, Accio Quote and Jo's web site. The statement said, "I'm sorry but that's where I draw the line. I will not stand for someone stealing my material and using it to scam fans out of money…I don't like doing things like this. But this leech is not a true fan." Ms. Blumsack says this is exactly what Steve Vander Ark is trying to do.
Ms. Blumsack also says that she found no proof to Steve Vander Ark's claims that he attempted to set up a meeting about his book between himself and the Christopher Little Literary Agency, noting that the emails between Steve Vander Ark and Emma Schlesinger did not mention his intent to publish.
Her last exhibit is an email exchange between Roger Rapoport and spokesperson Richard Harris (who told TLC in November that he was new to the publisher) dated late September 2007 (two weeks after the first cease-and-desist letter was sent), discussing the wording of the dislcaimer on the book to make it more clear that the book is not authorized or approved by J.K. Rowling. Mr. Harris said to Roger Rapoport, "Just because you say it's a 'critical reference work' or covered by the fair use doctrine doesn't mean it is. I think 'reference work' and 'reader's guide' protect it as fully as possible." It also mentions that the book, at that point, had not been fully submitted or typeset.
Suzanne Murphy's declaration
Suzanne Murphy is a Vice President in publishing and marketing at Scholastic and speaks to RDR's claim that a fan would buy both encyclopedias. She says that RDR "misunderstands the market" and says that while the core of fans "if they had the money" would purchase "everything Ms. Rowling writes," the "general consumers may not feel the need to have two Harry Potter encyclopedias. For a significant segment of the general book consuming market, if they buy the Infringing Book, when presented with a later opportunity to purchase Ms. Rowling's encyclopedia, they will decline as their perspective will be that they 'already bought one.' As a result, if the Infringing Book is allowed to be published it will usurp a key segment" of the market for JKR's and the diminished sales "could not easily be quantified."
She also notes that RDR "appears to have had some awareness" that the book would hurt the market for JKR's book because exhibits have indicated that Steve Vander Ark "refrained from including the full list of entries from Ms. Rowling's companion guide 'Fantastic Beasts and Where to Find them' on his Lexicon website because 'it would take away sales of the book.'" She further claims that RDR has tacitly agreed that there would be harm rendered to JKR's market for her book because they say that the "harm" of not being first to publish an encyclopedia has already been done. She says they have taken the "very opposite position" concerning the Lexicon book as they have in the past: "Far from being just one of many, RDR claims in its marketing materials and emails that the Infringing Book is the first and only comprehensive guide to the Harry Potter world containing information from all seven Harry Potter books. In an email to a Canadian publisher…RDR stated '…there is no other Harry Potter reference book hitting the market that is in any way similar to what we are doing. Other books look like the Idiot[s] Guide to Harry Potter are junk. Our book is written by 20 academic scholars and reference experts. This is the only complete reference work based on the number one Harry Potter website in the world…It is also the first complete reference book on the series.'"
Ms. Murphy says it is clear the books would be in competition and that "the ability to be first to publish the complete, definitive guide to Harry Potter" is "extremely valuable."
She also addresses the books like the Lexicon book that RDR cited in its claim, noting that "many of these books are out of print; or either have been or will be removed from the market or significantly revised because of the enforcement efforts of Plaintiffs. Of the four remaining books, 'The End of Harry Potter?,' 'Facts, Fiction and Folklore in Harry Potter's World,' 'The Magical World of Harry Potter,' and 'An Unofficial Muggle's Guide to the Wizarding World,'…none of these books cover all seven Harry Potter books and all of them are distinct from the Infringing Book because of their content, which includes essays, analysis, commentary and discussion. As a result, the existence of these books is irrelevant to the analysis as to whether or not there is a competitive advantage to being the first."
She says the publication of the Lexicon book would "diminish the distinctiveness of Ms. Rowling's work" because there is "a cachet of distinctiveness that comes from simply being first."
She also says that the book has been claimed as one of scholarship but from her understanding, has been marketed to children's bookstores and children's book buyers at major retail chains. "A work of scholarship or reference more often than not would not be marketed to children's book buyers nor would it appear in the children's section of any bookstore."
William Landes' declaration:
William Landes is the Clifon R. Musser Professor of Law and Economics at the University of Chicago Law School. His declaration addresses the potential market harm of the Lexicon book. It first reviews his previous declaration, which reviewed fair use and its potential for promoting or detracting from economic efficiency. It says the Lexicon book meets none of the conditions in which fair use promotes that efficiency, and points out that RDR has not "directly challenged the economic analysis of any of these issues presented in my prior declaration." He also says there has been no challenge to the claim that protecting copyright encourages creation, or that allowing derivative works to be copyrighted would increase costs of creating or licensing work. It reminds that RDR claims the assertions of market harm are "unsupported." The rest of the lengthy declaration says that the statements by RDR are "based on erroneous economic reasoning and are not supported by available data."
Mr. Landes says it would harm J.K. Rowling's book because:

-It has been emphasized in its marketing as being first

-It would reduce sales of her own book and therefore the donation to charities that would ensure, and would raise transaction costs for authors of derivative works
He mentions that for some, the Lexicon book would be their only purchase of a Harry Potter encyclopedia, and says the idea the official book would not be damaged because the same information is available on the Lexicon website because a website is impossible to give as a gift to a Harry Potter fan. "If the Lexicon were a perfect substitute for the [book] Lexicon, there would be no reason to incur the extra costs of publishing the book. Even if it is an imperfect substitute for the volume that Ms. Rowling expects to produce, the Lexicon would adversely affect demand for Ms. Rowling's book.
He further cites potential harm by mentioning:
1. …that Steve Vander Ark "has a prominent role in the Harry Potter community." The declaration mentions an article that reports on people taking pictures of and asking autographs of Mr. Vander Ark, and cites a (2004 or early 2005) UrbanWire interview calling him an expert. He also mentions that Steve Vander Ark has spoken at conferences Nimbus 2003, Convention Alley 2004, Accio 2005, Lumos 2006, Patronus 2006, Sectus 2007 and Prophecy 2007.
2. …that the mainstream media also consider him an authority, citing Mr. Vander Ark's interview on an A&E television special called "Harry Potter: The Hidden Secrets," which was later on the OOTP DVD version, relabeled as "The Hidden Secrets of Harry Potter." It also mentions the New York Times, USA Today and the Today Show as having interviewed Mr. Vander Ark.
3. …that the Lexicon web site "is one of the most popular Harry Potter fan sites." Internet traffic, the declaration says, indicates the site gets over 92,000 unique visitors per month, "second only to MuggleNet.com among Harry Potter fan sites," according to QuantCast.com. It notes that the JKR and WB sites get about 260,000 unique visitors per month.
4. …that the Lexicon's status as a member of the Floo Network, "linkage that provides Vander Ark a wide platform to market his book to its audience of Harry Potter fans."
5. …that the MuggleNet book is mentioned as an ancillary Harry Potter book that has achieved great commercial success; an article claimed the book sold 335,000 copies and was on the Children's Paperback Bestsellers List for 20 weeks. He also mentions that the book was published by Ulysses Press, also an independent publisher like RDR, suggesting RDR's previous lack of big titles would not preclude it from large commercial success with this book and therefore would pose potential harm.
6. …that the other books are not "first movers" because the other books differ from the Lexicon's. "Only one of these six volumes, 'Field Guide to Harry Potter,' was published after the seventh and last volume of the Harry Potter series was completed. However, according to Nielsen BookScan, the 'Field Guide' has sold only 201 units and thus cannot be considered to have usurped any first-mover advantage." Of the other books, he says, one, David Langford's "The End of Harry Potter?" is not marketed as an encyclopedia, and none of the remaining books were published after the series was completed. Also, none have been successful. "I understand that the defendant now acknowledges that the last three of these books have been withdrawn from the market, apparently at the request of the plaintiffs, due to concerns about copyright violation." (Those "last three" are: "The JK Rowling Encyclopedia," "A Muggle's Guide to Exploring the Wizarding World," and "Harry Potter A to Z: The Unofficial Harry Potter Encyclopedia.")
Jerri Johnson's Declaration
Jerri Johnson, from Exeter College at Oxford University, has submitted a second declaration refuting the claim that the book is scholarly or a research book, saying it does not meet the standards as set by the "Modern Language Association in the U.S. or the Research Assessment Exercise for Higher Education in the U.K."
She points out that the opposing critic pointed to reference books on public domain works, like those of Shakespeare, and Tolkien or C.S. Lewis companion books that were written either by the author or with the author's consent.
She says that much of the book's content is lifted directly from the series and that evidence of etymological research are "sprinkled sporadically and rarely throughout the Lexicon and…reflect scant evidence of scholarship as, among other things, they are often wrong." She says those instances bear the signs of someone having "scavenged about, sometimes through a dictionary of a language he seems not to understand, for the likeliest synonym." She cites the entry for "colloportus," which is referenced as derived from the Latin "collego, to bind together," and "portus, door," when the term "portus" is usually tnce." She also says that it is "oddly etymologically silent at times."
She also says it fails to follow "the first rule of scholarly research: full and proper citation of one's sources," citing instances of a lack of source such as one definition that comes "verbatim, from Merriam Webster's Online Dictionary," and another, for the entry for Heinrich Cornelius Agrippa Von Nettesheim, which is quoted "virtually verbatim" from Encyclopedia Brittanica online.
She says the single error the book might offer research is for the errors found in the book, though the book says, "remarkably few genuine [errors] exist."
Also, two article updates:
Methuen, the British publisher of the book, says it is "fairly confident" that the judge will rule in RDR's favor and plans to proceed with publication in April in that case.
Harvard Law blogger and copyright/IP professor Derek Bambauer says that a recent NYT article on the case "Foul[ed] Up Fair Use" and contains an "embarassingly simple mistake of copyright law."