Prince Charles Tells Julie Walters He Loves the Harry Potter films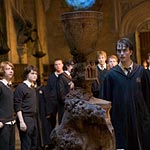 Feb 28, 2008
Uncategorized
Actress Julie Walters was made CBE today at ceremonies held at Buckingham Palace in London, England, where the Harry Potter actress received this special honor from the Prince of Wales. Julie Walters, who portrays Molly Weasley, was made "Commander of the British Empire" at the ceremony, and upon presenting the award for her services to drama in the UK, Prince Charles told the actress how much he enjoyed the Harry Potter films. The Daily Mail reports:
"The Prince said he loved the Potters and said what great films they were and what great fun they were. "Then I told him I'm writing my memoirs at the moment and he said 'oh you must have the editors constantly on' and I said yes I know, 'constantly saying have you got it done, how much more have you written' – so he really got into that one."
At this link you can read more and see a photo of Julie Walters with the Prince of Wales. You can learn more about these honors which are given to recognise exceptional achievement or service in the UK via this link. Congratulations Julie Walters!