Twenty-Second Issue of Scribbulus Now Online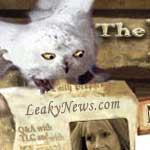 Mar 01, 2008
Uncategorized
As it is now officially March 1st, we have for you the latest issue of Leaky's premier essay project, Scribbulus. This Issue covers the complex and mysterious world of Horcruxes, offering new ways to look at the objects and how they came to be. The first essay covers this topic with a case study that takes a closer look at the dark objects, showcasing each one in a new way. The second essay of this issue examines the seven Horcruxes and compares them to the seven chakras. Enjoy!
The Peasant, the Tramp and Hepzibah Smith: A Horcrux Case Study by WaggaWaggaWerewolf
What Is the Crux of a Soul? by Hilde Pols

Our next issue, the April Fools' Edition, will be released on April 1st. There is also still time to submit essays on our latest topic: Death, Sacrifice, and the Afterlife. Submissions must be received by April 1st. Essays on any other topic of your choosing are also always welcomed. Full information can be found in the now complete Scribbulus section, which will have the latest updates and calls. You can also discuss our essays in our forum on the Leaky Lounge.