TV Watch: Grint, Tennant, Williams News and More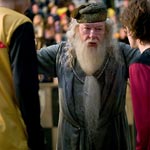 Mar 28, 2008
Uncategorized
We have a few reminders and updates regarding a few members of the Harry Potter cast appearing on TV in the UK and US this weekend.
First, thanks to the many who emailed saying actor Rupert Grint will be appearing on the Al Murray's Happy Hour program that will be broadcast on UK channel ITV 1 from 10:00pm to 11:00pm. We do not know if Rupert will discuss his role as Ron Weasley in the upcoming Harry Potter and the Half-Blood Prince, but if anyone can capture video please send it in! Also on at the same time alas, actor David Tennant (Barty Crouch Jr.) will be hosting the Friday Night Project on UK Channel 4.
A reminder that tomorrow the Nick Kids' Choice awards will be broadcast on cable channel Nickelodeon tomorrow night at 8pm. While we do not believe at this point anyone from the Harry Potter cast is due to attend, the Harry Potter books have been nominated again for best book series, and we will update should they win.
Finally, in a new remake of Jane Austen's classic Sense and Sensibility, actor Mark Williams (Arthur Weasley) will be appearing in the critically acclaimed new movie which will be broadcast Sunday night March 30 here in the US on PBS. (check listings for time).
Thanks to all who emailed!