"We Are Wizards" Documentary Screening at Film Festivals in April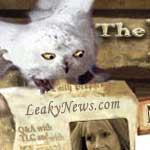 Mar 31, 2008
Uncategorized
As some of you may know, there is a new documentary focusing on the Harry Potter fandom called "We Are Wizards." This documentary has been described by the film makers as a piece that "tracks the influential figures leading the creative subculture surrounding the popular series. The film follows a set of individuals ranging from web journalists, authors, artists, filmmakers and musicians, as they enhance and expand the Harry Potter story, often in unexpected ways. WE ARE WIZARDS is a portrayal of creative fans with a common goal: to make their voices heard."
This film features some familiar faces, including Paul and Joe from "Harry and the Potters," Brian and Brad from "Draco and the Malfoys" and Matt from "The Whomping Willows." Also interviewed extensively for the film are others such as artist Brad Neely (Wizard People, Dear Readers) and our own Melissa Anelli. Made by film makers Josh Koury and Gerald Lewis, "We Are Wizards" will be screening at the following film festivals in April, with some events to feature appearances and performances from some of the wizard rock bands. Dates of note are as follows:
Saturday, April 5th, 8:45pm
Tuesday, April 8th 7pm
Tickets to this event are now available, with the April 5 screening to follow with a Q & A session with film's creators, Paul DeGeorge of Harry and the Potters, and Melissa Anelli of The Leaky Cauldron.
Saturday, April 12th 4:45pm
Sunday, April 13th Noon
Boston Independent Film Festival
Thursday April 24th, 7:30pm (Coolidge Corner Theatre)
Saturday April 26th, 4:00pm (Somerville Theatre)
The April 26 show will be followed by a Q&A with nearly everyone in the film (including Brad Neely, the Hungarian Horntails, Draco and the Malfoys and Melissa Anelli) as well as a rock show with Harry and the Potters, Draco and the Malfoys and the Hungarian Horntails.
You can see a preview of this film via the trailer at YouTube.
(CAUTION TO PARENTS: Slight adult language used in trailer)