PotterCast 146: Set Them All Free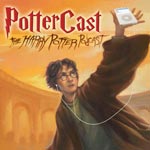 Apr 06, 2008
Uncategorized

Tonight we have for you the 146th episode of PotterCast, our Harry Potter podcast, featuring the PotterCast quartet in a jam-packed show. In Sue's News this week, the PotterCasters discuss J. K. Rowling's comments at the James Joyce Award ceremony on Dumbledore and Snape, Rupert Grint's recent comments on Quidditch in HBP, auditions for characters at the Harry Potter theme park, and Jo's contribution to a birthday book for Prince Charles. Phoenix Files is up next bringing you talk of the Hagrid's secret mission as it was seen in "Order of the Phoenix." Bit-by-Bit covers the tenth chapter of "Deathly Hallows" where we find out more about Kreacher, the longtime Black family house elf. Canon Conundrums is also here with the question of Sybil Trelawney's Hogwarts house affiliation on our minds this week. Finally, the drums feature Hotttttttttt Cheryl's response to John's assertion that her Ts come with age, Frak's wish to become a Hogwarts substitute teacher, an Acting Troupe update, and Salsa making with Melissa. To listen, just hit the "Play" button on the right side of the page (–>), or use iTunes, or direct download.
"Set Them All Free"
– Burning down the show.
– Jo talks of the importance of Snape and Dumbledore.
– Snape + Harry = the story of HP.
– Hagrid's hut of requirement.
– Kreacher is our friend, which means Hermione does know everything.
– What exactly did the potion in the cave do to the drinker?
– When she's right she says, "That can't be right!"
– Acting troupe update.
– Also, Salsa (the food not the dance).
RT: 65:51
Editors: Stede Bonnett, Liz Turney, Jeff Gregory, and Andrew Garner
LeakyCon 2009: A Harry Potter Conference in Boston
Podcast Alley
Digg
Terminus 2008
Direct download (30 MB).
Direct download low-bandwidth (8 MB).
Remember you don't need an iPod to listen. Listen easily on iTunes, which you can download and install here, by clicking here to listen, or you can just use the streaming Flash player at PotterCast.com or just on the right side of this page. Discussion of the PotterCast is right here. Enjoy!