Accio 2008 to Auction Set of Signed Harry Potter Novels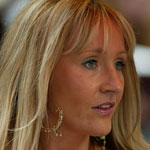 Apr 08, 2008
Uncategorized
Accio 2008, the Harry Potter fan conference taking place this summer in Oxford, England, announced they will be auctioning signed editions of the seven Harry Potter novels for the benefit of the National Literacy Trust. The complete set of seven adult edition Harry Potter novels have been signed and donated by their author, J. K. Rowling, for this event. The first six novels will be auctioned separately during the conference, while the seventh will be presented to a lucky attendee who participates in a raffle. All proceeds from the auction will be benefit the National Literacy Trust.
The National Literacy Trust is an independent charitable organization which supports and promotes the advancement of reading and writing in the UK. More information about this charity can be found here.
On a related note, a limited number of spots are still available for Accio 2008. Those interested in registering can find more information here. Accio 2008 will take place July 25-28, 2008 at Magdalen College in Oxford, England.