PotterCast 147: Ninja!Squee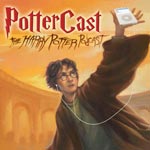 Apr 14, 2008

The 147th episode of PotterCast, our Harry Potter podcast, is here for you this evening with an update regarding the PotterCast Acting Troupe and the latest Potter news. This week the PotterCast quartet discusses the confirmed September 25th Broadway debut of the play "Equus," the announcement of a new "Beedle the Bard" contest from Amazon.com, additional "Half-Blood Prince" casting, and much more. Bit-by-Bit then kicks off with talk of the eleventh chapter of "Harry Potter and the Deathly Hallows," going into Lupin's Grimmauld Place return and Harry's reaction. Canon Conundrums follows with a discussion on Cornelius Fudge, in which the PotterCasters attempt to figure out his Hogwarts House affliction. Scribby5 also makes its return this week with a fun interview with Dracologist, Charlie Weasley. Finally, in the drums we check who currently can call the royal PotterCasters their own on Facebook, play Frak's "Friends" fraternity quiz, and tell you about the relaunch of Melissa's "Fitting It In" podcast. To listen, just hit the "Play" button on the right side of the page (–>), or use iTunes, or direct download.
"Ninja!Squee"
– PotterCast Idol.
– The most famous mouse drops by.
– Lupin visits the trio at Grimmauld Place and asks if he could help.
– Mickey Mouse is a Hufflepuff.
– Charlie the Quidditch master.
– Who owns who on Facebook…
– Fitting it all in.
– Also, robots.
RT: 67:00
Editors: Stede Bonnett, Liz Turney, Samantha McManus, and Andrew Garner
LeakyCon 2009: A Harry Potter Conference in Boston
Podcast Alley
Digg
Terminus 2008
Direct download (31 MB).
Direct download low-bandwidth (8 MB).
Remember you don't need an iPod to listen. Listen easily on iTunes, which you can download and install here, by clicking here to listen, or you can just use the streaming Flash player at PotterCast.com or just on the right side of this page. Discussion of the PotterCast is right here. Enjoy!