JKR/WB vs. RDR Books Trial: "Fan Feud", from The New Yorker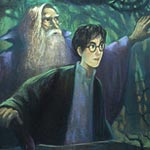 May 06, 2008
Uncategorized
Tim Wu in an article for The New Yorker looks at the events leading up to the trial, speaks to Steve Vander Ark, and compares J.K. Rowling to the mythical Athena:
"Once upon a time, a talented weaver named Arachne declared herself superior in skill to Athena, the goddess of wisdom, who also invented weaving. Whether Arachne was actually better we'll never know, for Athena, in a jealous rage, destroyed her rival's tapestry and turned her into a spider. Last summer, at a "Harry Potter" convention in Toronto, a fan named Steve Vander Ark made a similar mistake when he dared to compare himself to Joanne (J. K.) Rowling."
Wu describes what led Vander Ark to create the Lexicon website, and notes that Vander Ark has suffered "cruel fates" as a result of the lawsuit:
"In the late nineties, while working as a children's librarian in Byron Center, Michigan (pop. 3,777), he discovered the "Potter" series. He began to take notes and, by his own estimate, has read each of the books forty or fifty times. "Something about these detailed imaginative worlds just captivated me' he said during a court recess.
In 2000, Vander Ark, who considers himself a Ravenclaw, turned his obsessive notes into a Web site, The Harry Potter Lexicon. Soon, he was a celebrity in the "Potter" community. But when he decided to turn his Web site into a book Rowling sued his publisher, effectively exiling him from the wizard community."
Wu also notes Leaky webmistress Melissa Anelli's presence in the court room:
Anelli is writing her own "Potter" book, with Rowling's blessing, and during a break in the trial Rowling sought her out and gave her a warm embrace, a moment that might have been as difficult for Vander Ark as any part of the legal proceedings.
"Melissa has done more to hurt me than Rowling' Vander Ark said during a recess. "I can't blame her for liking her status." After all, he said, Rowling "is God and Melissa is her prophet." He went on, "I am an outcast now. But I still consider myself a ˜Harry Potter' fan."
*
Editor's Note: In the above-mentioned article, Mr. Wu attributed several statements made during a recent PotterCast (number 148) to Melissa Anelli ("He is vilified now", "He has ruined his good standing."). These remarks were instead made by Leaky Editor Sue Upton, who was commenting on the impact the decision to publish the book has made upon Vander Ark's reputation.