PotterCast 151: Spontaneous Combustion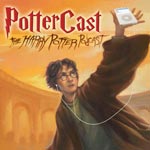 May 13, 2008

The 151st episode of PotterCast, our Harry Potter podcast, is now online with the latest in Harry Potter and much more. First up, we bring you news on the "Half-Blood Prince" film including new images, information from actress Natalia Tena, set footage, and casting announcements. Additional news about a decision regarding the privacy case filed by J. K. Rowling along with an update on media reaction to the RDR Books vs. WB/JKR lawsuit is also featured. We then jump into our latest Canon Conundrums discussion which focuses on Aberforth Dumbledore and which Hogwarts house he called home. We then have for you a new Bit-by-Bit where we turn to Chapter 12 and talk of the Death Eater presence outside Grimmauld Place along with what is going on inside the house. The third round of the first set of Acting Troupe Auditions follows with six auditions for the younger girl roles in the production. Our Scribby5 ladies the take the stage and have for you a discussion on one of their newest essays. Finally, the drums bring you to talk about comfort food, the upcoming Harry Potter Day, a possible East Coast PotterCast tour, and Terminus house talk. To listen, just hit the "Play" button on the right side of the page (–>), or use iTunes, or direct download.
"Spontaneous Combustion"
– Harry Potter and the sexy yarn.
– Film news from the actress who plays Tonks.
– To which house does Aberforth Dumbledore belong?
– Kreacher is Mr. Mom.
– Sue's Harry Potter/Scooby Doo connection.
– The last of the first round auditions.
– Come see us in Ft. Lauderdale… it's next week!
RT: 96:51
Editors: Stede Bonnett, Jeff Gregory, Samantha McManus, and Andrew Garner
LeakyCon 2009: A Harry Potter Conference in Boston
Podcast Alley
Digg
Terminus 2008
Direct download (44 MB).
Direct download low-bandwidth (11 MB).
Remember you don't need an iPod to listen. Listen easily on iTunes, which you can download and install here, by clicking here to listen, or you can just use the streaming Flash player at PotterCast.com or just on the right side of this page. Discussion of the PotterCast is right here. Enjoy!