John Hurt to Return as Ollivander for "Deathly Hallows"?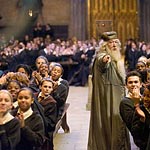 May 22, 2008
Uncategorized
While promoting his new film, Indiana Jones and the Crystal Skull, actor John Hurt has made some remarks regarding his possible return to the Harry Potter film series. UK tabloid the Sun cites John Hurt as saying it is possible he will return as the mysterious wand maker Ollivander for the film (s) of Harry Potter and the Deathly Hallows. Quotage as follows: "I didn't spend a lot of time on the Harry Potter film but I might be spending more time there next time' he smiled. "We'll see."
Readers will recall of course, Mr. Hurt made a brief but memorable appearance as Ollivander in the first Harry Potter movie, Harry Potter and the Sorcerer's Stone. We are working to obtain some verification on this, and will update with more when we can.