Winner Announced in Amazon.com's Beedle the Bard Ballad Writing Contest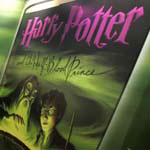 May 22, 2008
Uncategorized
Voting has now ended in Amazon.com's Beedle the Bard Ballad Writing Contest, and the winner who will receive a weekend with the handwritten work by J. K. Rowling has been chosen. As we told you previously, the competition had been narrowed down to two finalists, which would be voted on by Amazon.com members from around the world. Sixteen year-old Rhiannon D. from Australia was voted the grand prize winner for her personal and moving entry. In a statement, Rhiannon says of the contest and winning:
"I am so thankful and honored for all the votes I received from Amazon customers in this contest. I'm flattered that they felt my entry was worthy enough to win this fantastic prize, said Rhiannon. "I can't believe I get to read this special book, and can't wait to spend a weekend with Beedle the Bard!"
Her winning submission was as follows:
When I was six, he was eleven
I learnt how to be brave.

When I was seven, he was twelve
I learnt to misbehave.

When I was eight, he was thirteen
He taught me how to cry.

When I was nine, he was fourteen
He showed me how to try.

When I was twelve, and he fifteen
He taught me to forgive.

When we were fourteen and sixteen
I learnt what it was to live.

When we were fifteen and seventeen
He showed me he could bleed.

But growing up with Harry taught me,
mostly, how to read.

This lucky winner will receive a trip for two to London, England to spend a weekend with The Tales of Beedle the Bard. As readers will remember, this work was purchased by Amazon.com at a charity auction earlier in the year. This unique and rare book was handwritten by Harry Potter author J. K. Rowling and contains the five wizarding tales mentioned in the "Harry Potter and the Deathly Hallows" novel. Photos of the book, along with more information, can be seen via Amazon.com.