Rumor Rumor, it's Another "Half-Blood Prince" Rumor Alert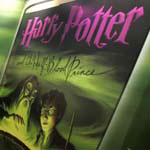 May 23, 2008
Uncategorized
We have several pieces of news regarding Harry Potter and the Half-Blood Prince today, including yet more rumors on the long awaited teaser trailer and more.
First, scores of readers let us know about this very small photo that has now surfaced online, showing a different angle of the previously officially released photo of the trio in the common room. While this new photo is small indeed, you can see more of the students sitting in the room.
This photo first surfaced on this site, curiously posted by the person who revealed the earlier photo of what seems to be Harry looking in a filing cabinet from Half-Blood Prince, and who has now apparently posted something that is claimed to be the teaser poster.UPDATE: Thanks much to WB for confirming that yes indeed, that poster is FAKE. We have also received many reports from readers of that site and elsewhere the teaser trailer for HBP will now be shown in front of Get Smart, when that film is released on June 20. Other reports are coming to TLC saying the international trailer will be released in front of the new Batman film, The Dark Knight when that opens in July. While we are as anxious as you for the teaser trailer, please note that all of this is very much unconfirmed, and should remain firmly in the RUMOR category the time being. We have contacted WB to find out more about this new photo, trailer dates and more, and will update of course as soon as we can.
Thanks to everyone who emailed.