J.K. Rowling Updates Site on New Prequel Material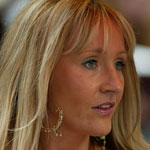 May 29, 2008
Uncategorized
Author J.K. Rowling is doing some updating this morning on her website, with a news entry on the upcoming charity auction featuring that special 800 word prequel to the Harry Potter series. Of note is the fact Jo says the story on the prequel card takes place 3 years before Harry was born. Full quotage is as follows:
"A few months ago a number of authors were invited to handwrite cards for auction by Waterstones, on June 10, all proceeds to go to English PEN, the writers' association, and the Dyslexia Society.
After playing around with a number of different ideas I decided to write a short (for me!) excerpt from a prequel to the Potter series. It is about 800 words long and the action takes place around 3 years before Harry is born.
Although I did feel a bit like a relapsing addict as I sat down to write – the words poured from my pen with frightening ease – I am NOT working on a prequel. Indeed, I've written that clearly at the bottom of the card itself. I just thought that this was the best way to make money for two extremely worthwhile charities.
The good news for Potter fans who will not be able to bid at the auction is that you will be able to read the short story (along with amazing contributions from Doris Lessing, Margaret Atwood, Tom Stoppard, Irvine Welsh, Sebastian Faulks, Axel Scheffler, Lauren Child, Nick Hornby, Neil Gaiman, Lisa Appignanesi, Richard Ford, and Michael Rosen) by purchasing a book of facsimiles, which will be available in August. The proceeds from this book, too, will go to the charities."
As reported below, this new 800 word Harry Potter prequel will involves James Potter and Sirius Black.