Rumor Alert: Of Trios and Theme Parks and Chanel Clothes Oh My!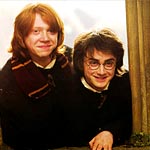 Jun 15, 2008
Uncategorized
For those wondering when we might hear a bit more rumors on the involvement of the trio and the upcoming Wizarding World of Harry Potter theme park, wait no more. Today, the Sunday Mirror is reporting that Harry Potter author J.K. Rowling has written "a brand-new Harry Potter story which is being turned into a mini-movie" that will star the trio of Dan Radcliffe, Emma Watson and Rupert Grint. The UK tabloid also says filming will take place at Leavesden Studios in England before they begin filming on Harry Potter and the Deathly Hallows next February. Additional quotage " "They are also working on extra sequences and clips which will be part of the rides. J.K. Rowling has been involved in everything. She wrote the story."
As posted previously here on TLC, there are earlier reports stating the trio and JKR would be appearing at the opening day of the theme park, which is continuing construction (yet more photos here via OrlandoRocks) and due to open December of 2009 or early 2010, however this is the first report of video being made especially for the theme park in Orlando, Florida. We will try to verify this and update when we know more.
On a related note, actress Emma Watson also was the subject of another story today in another tabloid, this report stating the actress is to formally sign a deal with the legendary couture house of Chanel to become the "new face of the Chanel fragrance Coco Mademoiselle." The Daily Mail says that Emma, who has previously worn Chanel clothes to many public events, including several Harry Potter premieres, "has signed a two-year contract worth £3million with the French fashion house to promote the brand." The paper continues:
Miss Watson, who became a household name in the films based on JK Rowling's books, has signed up with leading model agency Storm, which is thought to have secured her first major campaign. It is understood that she will replace Keira Knightley, 23, whose contract with Coco Mademoiselle ends this summer. Sources said Chanel is creating a new role for Miss Knightley who, in her latest advert, poses provocatively with just a bowler hat covering her modesty.
A source said Miss Watson's appointment will be announced next month. 'Emma has been excitedly telling friends that she is going to be taking over from Keira…It is understood that Miss Watson's bosses at Warner Bros, which makes the Harry Potter films, have given their full backing to the deal."
While this sounds very probable, we are also working to obtain verification on this and will of course post updates on this as soon as possible.
Thanks much to Radcakesfan and Mary!