PotterCast 156: Drumsticks?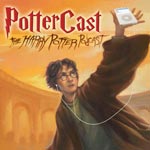 Jun 16, 2008
Uncategorized

PotterCast, our Harry Potter podcast, is online tonight with its 156th episode of Harry Potter news, discussion, and more. This week Sue brings us the latest on the charity auction of the 800-word story card written by J. K. Rowling, including its winning bidder, their future plans for the card, and, most importantly, the Harry Potter prequel contained on it. Additionally, there is further news on the "Half-Blood Prince" film thanks to some new photos, information about the "Deathly Hallows" film from Warwick Davis, and updates on the summer Harry Potter conference season. Next up is the final installment of Phoenix Files. Wrapping up the final moments of the film, the PotterCast quartet talks about Fudge's reaction, Dumbledore talking to Harry in his office, and some movie seven predictions. A special segment is up next with Melissa, Sue, and Frak, who delve into the 800 word Harry Potter prequel. Those who have not yet read this, can do so via this link. Our Scribby 5 ladies then meet up once again, bringing you some more essay talk. Finally, the drums close out this episode along with a P.O. Box update of sorts, Sue's Terminus Tournament, a big fat Greek-Irish-Italian wedding with Melissa as Maid of Honor, and an Avon Walk for a Cure update. To listen, just hit the "Play" button on the right side of the page (–>), or use iTunes, or direct download.
"Drumsticks?"
– 800 words.
– Sue has trailer withdrawal.
– Convention Alley and Comic Con.
– He's back!
– Sirius Black rides again.
– Policemen were spies for Voldy?
– Scribby 5: The boring fighting/camping misery.
– Sue in the Tournament at Terminus, and she can't cheat!
– Melis is walking for the cure.
RT: 68:50
Editors: Stede Bonnett, Jeff Gregory and Andrew Garner
LeakyCon 2009: A Harry Potter Conference in Boston
Podcast Alley
Digg
Terminus 2008
Direct download (31 MB).
Direct download low-bandwidth (8 MB).
Remember you don't need an iPod to listen. Listen easily on iTunes, which you can download and install here, by clicking here to listen, or you can just use the streaming Flash player at PotterCast.com or just on the right side of this page. Discussion of the PotterCast is right here. Enjoy!