Entertainment Weekly Celebrates 1,000th Issue with Dan Radcliffe on Cover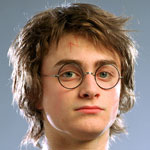 Jun 20, 2008
Uncategorized
Entertainment Weekly is celebrating their 1,000th issue, Harry Potter style. The new issue of the magazine features this photo of actor Dan Radcliffe as Harry Potter in "Goblet of Fire" along with several other icons such as Bono from U2, Johnny Depp as Edward Sissorhands and more, as EW is showcasing 1,000 of the New Classics. Harry Potter and the Goblet of Fire by J.K. Rowling comes in number two on their list of Top 100 New Classic Books, with the magazine noting :The first three Harry Potter novels were pure kid stuff, and then, unexpectedly, Rowling went epic and dark—killing children, resurrecting evil, and sending Harry to war."
The top ten list reads as follows:
1. The Road, Cormac McCarthy

2. Harry Potter and the Goblet of Fire, J.K. Rowling

3. Beloved, Toni Morrison

4. The Liars' Club, Mary Karr

5. American Pastoral, Philip Roth

6. Mystic River, Dennis Lehane

7. Maus, Art Spiegelman

8. Selected Stories, Alice Munro

9. Cold Mountain, Charles Frazier

10. The Wind-Up Bird Chronicle, Haruki Murakami
Speaking of authors, our favorite author J.K. Rowling was also voted the reader's most favorite author, with the rest of the voting
Favorite Author:

1. J.K. Rowling (46%) ' winner

2. Stephen King (30%)

3. John Grisham (10%)

4. Cormac McCarthy (8%)

5. Toni Morrison (6%)
This special issue of Entertainment Weekly , a special double-issue entirely devoted to the New Classics: the 1,000 best movies, TV shows, albums, books, videogames, pop culture style moments and more of the last 25 years is on newsstands today!