Cast Watch: Trailers for Emma Watson, Jason Isaacs New Movies and More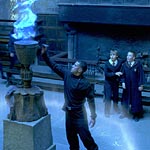 Jun 27, 2008
Uncategorized
As we continue to wait for news on Half-Blood Prince, some of our favorite actors have been busy with other movie projects, and we have a few updates regarding those tonight.
First up: The new trailer for "The Tales of Despereaux," an animated film featuring the voice of Emma Watson is now online via Yahoo movies. Based on the best selling book, this film is due in theaters December 19.
Next: "Good" starring Jason Isaacs and Viggo Mortensen. The trailer for the film based on the powerful play by C.P. Taylor features Jason in a departure from his role as Death Eater Lucius Malfoy to part of a Jewish victim caught up in the rise of the Nazi regime in Germany. You can see the trailer here via YouTube or here in our video galleries. This film is expected to be released later this year.
Mamma Mia, its Mamma Weasley, singing! Well sorta, as Julie Walters (Molly Weasley) will soon be seen in the film Mamma Mia, based on the hit musical featuring the songs from the group ABBA. Enjoy!
"The Dark Knight": Marketing is in high gear for this next installment in the Batman series, and there are a host of new clips and trailers for this film starring Gary Oldman (Sirius Black), Christian Bale, and the late Heath Ledger here via a special Comcast site and here via the official WB The Dark Knight website.
Older news, but still worth checking out are the following list below.
Like fine wine, Alan Rickman keeps getting better as seen in his newest film "Bottle Shock," a movie about the wine business.
Jim Broadbent (Professor Slughorn in the upcoming "Half-Blood Prince") can currently be seen in When Did You Last See Your Father? with Colin Firth.
Tom Felton (Draco Malfoy) is in the dark thriller "The Disappeared. Please note the trailer for this film is quite intense and contains disturbing subject matter not suitable for younger viewers.
Thanks to everyone who has emailed!