Book News Roundup: UK "Deathly Hallows" Paperback Due this Week, JKR Against Book "Age Banding" and More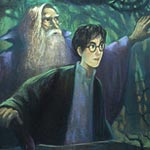 Jul 07, 2008
Uncategorized
While there has been much ado recently with the long awaited release of glorious high res new photos from Harry Potter and the Half-Blood Prince and the HBP video game news, we do have updates regarding the Harry Potter books series today.
First a reminder that the UK paperback of Harry Potter and the Deathly Hallows will be released on Thursday, with pre-orders available from several retailers (including via our Cauldron Shop) who will ship here to the US. As the paperback release is this week, the UK publishers Bloomsbury have now 'unlocked' the seventh compartment on the Hogwarts Express train via their Swot Up on Potter mini-site. Please note: There is still no word as to when the US publishers plan to release their paperback version of Deathly Hallows, and we will of course update once that does become available.
J.K. Rowling is one of many authors now, who publicly oppose plans by UK publishers to include 'age bands' on children's books. Adding to an online petition, JKR included her name alongside authors such as Terry Pratchett, Jacqueline Wilson, Anthony Horowitz, and Alan Garner in a stance against publishing age guidelines on the front of these books. The Guardian reports that publishers this fall will release books that "will bear a logo indicating they are suitable for readers aged 5+, 7+, 9+, 11+ and 13+/teen." The paper notes this scheme has attracted the interest of "Random House, Penguin and Scholastic," but states that "Rowling's publisher Bloomsbury currently has no plans to introduce the label for any of its authors, although it has not ruled out the idea." We do not know if this plan will go into effect here in the US, and will update with more on this when we can.
Finally, the Japanese edition of "Deathly Hallows" will be released later this month. To celebrate this, several days ago, Amazon held a special showing of "The Tales of Beedle the Bard," the handwritten book by J.K. Rowling, which the online retailer purchased last year. Amazon also reports that there have been "more than 70,000 advance orders" for the Japanese edition of the seventh Harry Potter book.