Rumor Alert: Tiny Teaser for "Half-Blood Prince" Due in IMAX with The Dark Knight?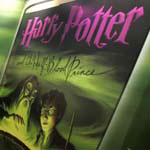 Jul 10, 2008
Uncategorized
We've received a flock of owls this morning, all bearing reports of yet another rumor regarding a possible teaser trailer for "Harry Potter and the Half-Blood Prince." Coming Soon.com and these reports all say that there is a possible super short teaser for the upcoming sixth Harry Potter film due to show in front of The Dark Knight when it screens on IMAX theaters next weekend. Please note: We have no idea if this is to be an actual mini-trailer, or possibly just an announcement the film is due in IMAX this fall, or what this may actually consist of-if true at all. Rumor season is in full gear, and as this one is firmly in that rumor category, we will of course update with more when we can.
Thanks to Coming Soon and the many who emailed!