Lord Voldemort Number One Movie Villain According to Moviefone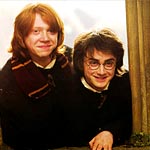 Jul 11, 2008
Uncategorized
Voldemort is the number one Movie Villain of All Time according to a new list online from AOL Moviefone. Portrayed by actor Ralph Fiennes, Lord Voldemort came in at the number one spot, hexing out his fellow villainous rivals, which include the characters of Hannibal Lecter from "Silence of the Lambs," Darth Vader from "Star Wars," and Cruella De Vil from the Disney classic "101 Dalmatians." Alan Rickman also makes the their list, not for his portrayal of Severus Snape, but for his role in the the 1988 film "Die Hard" where he played Hans Gruber. Moviefone says this of the Dark Lord from the Harry Potter films:
He-Who-Must-Not-Be-Named is the most powerful dark wizard to ever wave a wand, and he schemes to enslave the whole muggle world. His slithering presence has been minimal in the films so far, but we've all read the books, so we know how much more evil he'll become.
Thanks to Carol for mailing.